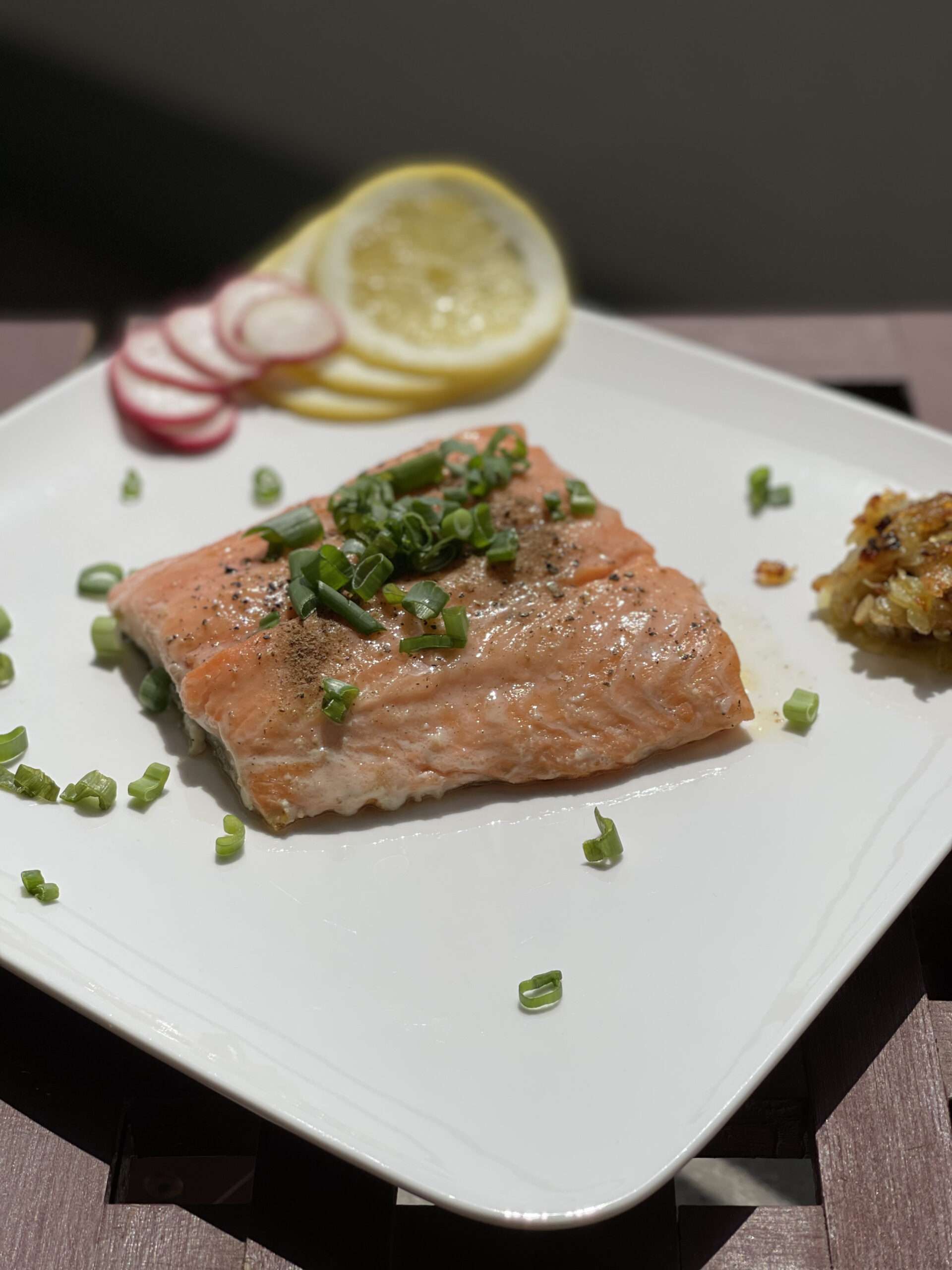 Lachsfilet in Pearlins
Salmon is already an experience itself, when it is properly prepared and designed on your plate. By chance, we have created a Salmon in Pearlins, when a bottle spilled a little bit over it one day. "Why not trying it? – Ok, let's do it !" and we did. After some experiments, we found out that it is the best to prepare the sell men by filling pearlins with a teaspoon into the middle of the filet as well as opening its filaments and wait until the Salmon absorb the Pearlins.
Recipe
250 g Lachs
50 g Butter
1 Zwiebel
1 Ei
1 Egg
1 Knoblauchzehe
Radieschen
Lauch
Olivenöl
Salz und Pfeffer
Rosmarin
Zubereitung
Beginnen Sie damit, die Zwiebeln, den Knoblauch, den Lauch sowie die Radieschen in Würfel und Scheiben zu schneiden, während Sie die Butter in einer Pfanne bei niedrigerer Temperatur schmelzen. Sobald die Butter geschmolzen ist, den Lachs in die Butter geben. Der Lachs liegt auf Ihrem gewürfelten Knoblauch, so dass er ihn atmen kann. Achten Sie darauf, dass Ihre Hitze nicht zu hoch ist und denken Sie daran, dass der Knoblauch perfekt ist, wenn sein Inneres etwas glasig, aber weich ist. Sie können dies mit einem kleinen Schnitt in der Mitte testen, wenn Sie sich nicht sicher sind. Fügen Sie etwas Pfeffer und Rosmarin hinzu, um es etwas kantiger und leichter zu machen.

In einem separaten Topf das Olivenöl erhitzen und die gewürfelten Zwiebeln anrösten. Als nette Zugabe können Sie ein Spiegelei zubereiten, das auf einem separaten Teller serviert wird (siehe Hinweis unten).

Nach etwa 20 Minuten ist der Lachs fertig und Sie können ihn mit der in Scheiben geschnittenen frischen Zitrone und dem Rettich servieren. Den Lauch über den Lachs legen und alles mit den Zwiebeln nach Belieben anrichten. Dann genießen Sie Ihre erfrischende Geschmacksmalerei.
Wie man mit Pearlins genießt.
Bereiten Sie Ihr Stück Lachs vor und essen Sie es mit den Röstzwiebeln. Falls die Pearlins nicht intensiv genug sind, nehmen Sie einige Tropfen Pearlins mit einem Teelöffel und geben Sie diese auf Ihren Biss. Im Sommer empfehlen wir, die geschnittene Zitrone über den Lachs zu pressen. Es erzeugt eine erstaunlich frische Brise mit den funkelnden Eigenschaften von Ingwer. Sie erleben eine Erfrischung und einen heißen Happen – alles was Sie brauchen – gleichzeitig.
Tipps und Variationen
Geben Sie ein paar Kürbiskerne dazu und essen Sie es in Kombination mit einer Kürbis-Mango-Suppe. Dieses Add-on ist schön im Winter, wenn es draußen kalt und drinnen gemütlich ist. Bereiten Sie im Sommer eine Tasse Pearlins auf Eis(-würfeln) zu und genießen Sie Ihre Vorspeise oder Zeit, bevor Sie den frischen Lachs essen.
Ein Ei neutralisiert die vielen Aromen und lässt Sie dieses Erlebnis immer wieder neu beginnen. Wenn Sie es eher süß mögen, ist Ihr Dessert (also ein gekühltes Mousse au Chocolat oder Wassermeloneneis) in Kombination mit einem Schuss des Pearlins V(ariant) der richtige Abschluss.